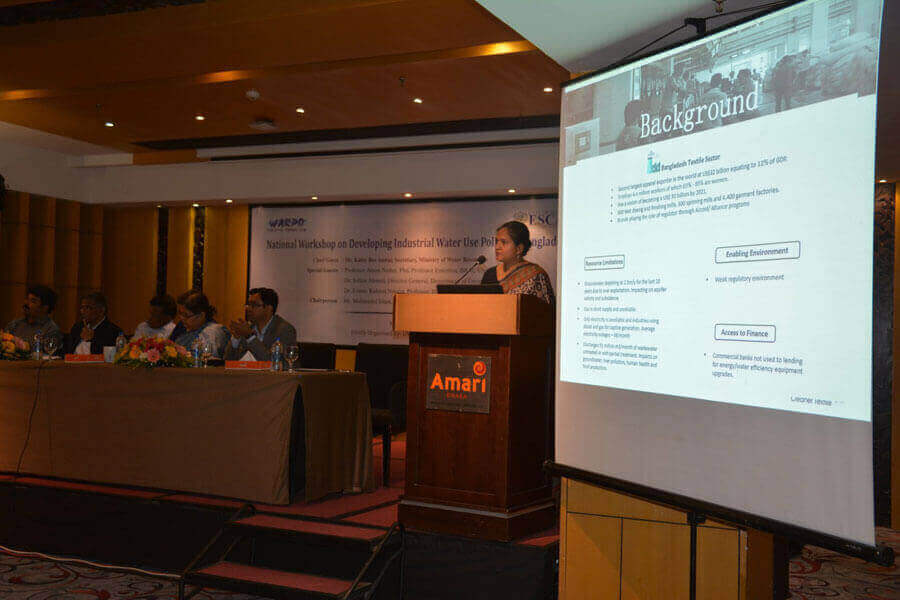 Photo: WARPO
A workshop on developing Industrial Water Use Policy in Bangladesh was jointly organized by United Nations Economic and Social Commission for Asia and the Pacific (UN ESCAP) and Water Resources Planning Organization (WARPO). The workshop aimed to identify challenges and opportunities to design and implement an Industrial Water Use Policy for limiting water use and pollution in the industrial sector of Bangladesh. The workshop brought together a broad range of stakeholders including representatives from relevant Government Ministries, private sectors, academia, civil society and non-governmental organizations as well as from the UN system and other development partners in an interactive setting.
The workshop schedule included a panel discussion session in which five discussants presented their views on specific topics, followed by an open discussion and question – answer session.
Ms. Nishat Shahid Chowdhury, Program Manager, Bangladesh Partnership for Cleaner Textile (PaCT), International Finance Corporation made the final presentation of the Panel. She elaborated on the topic "Effective partnership for cleaner production". Addressing high water, energy, and chemical use through the adoption of industrial best practices throughout the supply-chain is the program objective for PaCT. The program tries to address four aspects of cleaner production: a) brands (lowering risk within supply chain); b) factory (doing more with less); c) improving the enabling environment for the sector; and d) investment facilitation for financing the pioneers. Factory engagement includes awareness raising, basic and in-depth cleaner production assessment.
The presentation demonstrated some practical examples of Bangladeshi apparel company that makes good return of investment from cleaner production within short period of time. PaCT Decision Support Guidance, and establishment of Textile Technology Business Center and its potential for water efficient industrial growth were discussed in detail.
To read more about the presentations of the workshop, please click here.
Featured News