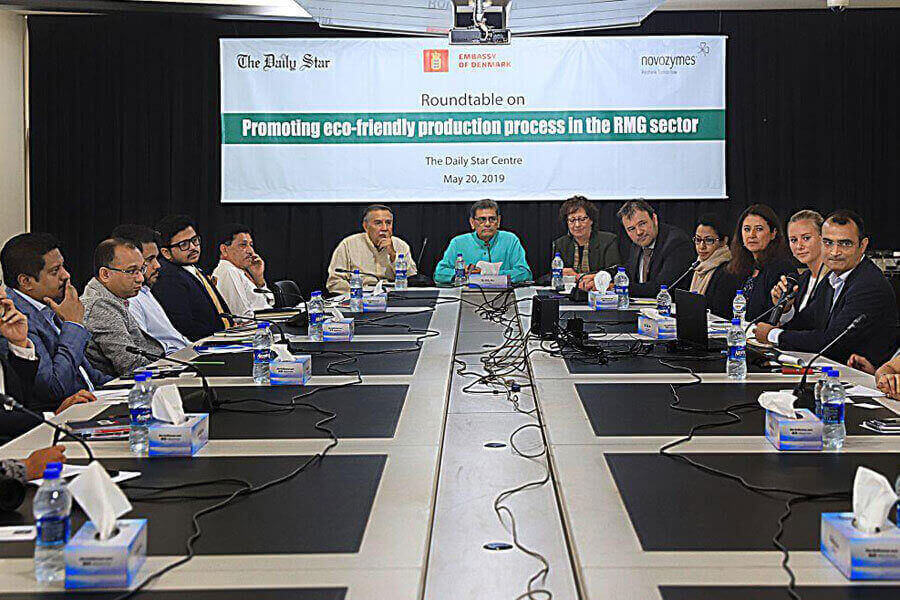 Photo: The Daily Star
Before 2012, DBL Group used 120 litres of water for washing a kilogram of fabric. But by 2016, the garment maker was able to bring down its water consumption to 60 litres thanks to installation of modern technologies.
This means, DBL can now save more than one billion litres of water in a year and also save more than one million kilograms of dyes and chemicals.
"Reduction of water consumption means reduction of energy consumption," said Mohammed Zahidullah, head of sustainability of DBL Group.
Mr. Zahidullah's comments came at a discussion on promoting eco-friendly production process in the garment sector, jointly organised by the Danish embassy and The Daily Star at the newspaper's office in Dhaka.
According to a study by the International Finance Corporation (IFC) under the Partnership for Cleaner Textile (PaCT) program, if garments factories could follow DBL Group's lead, Bangladesh can save around 22 billion litres of water, cut down water waste by 18 billion litres and greenhouse gas by 46,000 tonnes in a year.
Nishat Shahid Chowdhury, programme manager of PaCT commented, "The industries need more innovative solutions so that they can do better". She also noted that A fund of 0 million would be created soon so that the textile, dyes and washing mill owners can avail easy finance for installation of eco-friendly production process, saving the environment.
She also said, "As per the recommendation of the PaCT programme, the National Board of Revenue hiked the duty on import of some chemicals".
To read more, please click here.
Featured News