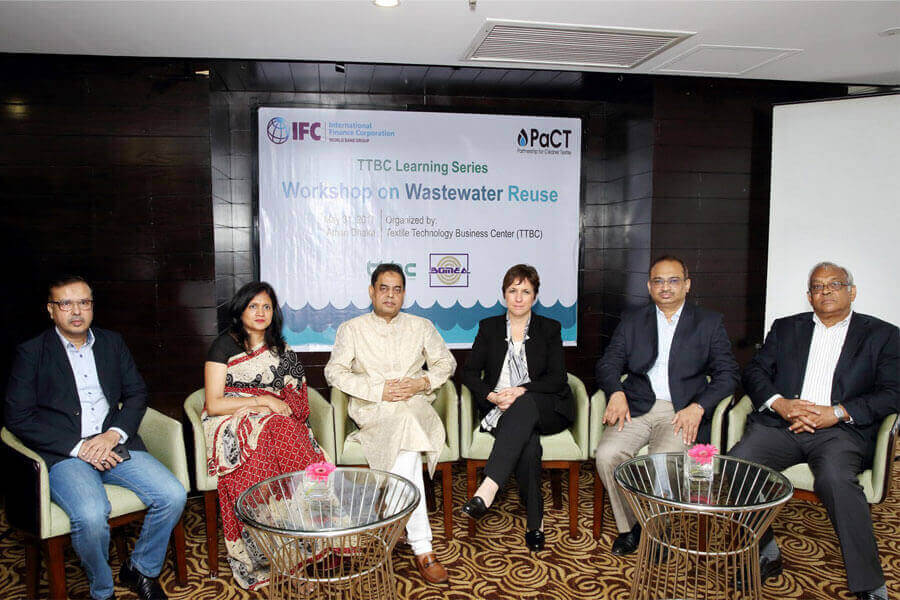 Wendy Werner, IFC Bangladesh Country Manager, Siddiqur Rahman, President, BGMEA and other dignitaries during the Workshop
The burgeoning textile industry of Bangladesh can be substantially benefited by reusing wastewater and other natural resources, observed trainers in a Dhaka workshop recently.
The workshop titled 'wastewater reuse' was organised jointly by the Partnership for Cleaner Textile (PaCT) programme of International Finance Corporation (IFC), a member of World Bank Group, and the Textile Technology Business Center (TTBC).
Nishat Shahid Chowdhury, deputy programme manager of PaCT, demonstrated the economic and environmental benefits of reusing wastewater and highlighted how reusing wastewater could ensure sustainability and facilitate an overall shift to a circular apparel industry.
Factories under the PaCT programme have achieved impressive resource savings including savings of water up to about 18.4 billion liters in a year, savings of electricity by 1.9 million MWh in a year and investment of $ 31 million by the factories.
Bangladesh Garment Manufacturers and Exporters Association president Siddiqur Rahman said IFC helped them to understand the importance of cleaner production initiatives across the textile sector. IFC Bangladesh is committed to the development goals and will continue to extend support through investment and advisory services, said Wendy Werner, country manager of IFC.
Among other speakers were spokespersons from BGMEA, leading textile factories, technology suppliers and other textile sector stakeholders.
For more information, visit www.newagebd.net/article/17071/reusing-wastewater-emphasised-for-textile-industries
Featured News