Monday, April 26, 2021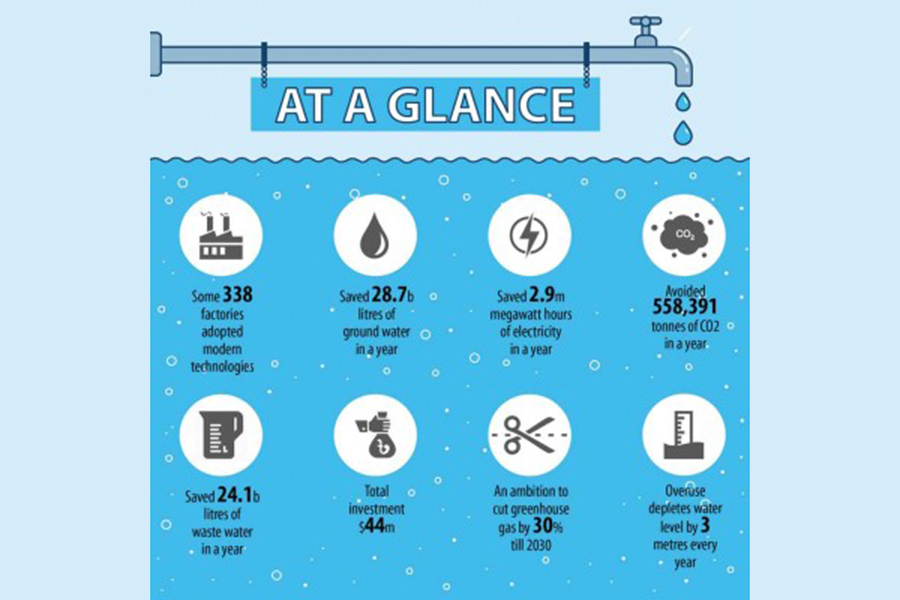 Bangladesh's textile and garment factories have significantly cut water and energy consumption by adopting low-cost and cleaner production processes and installing new technologies under a programme initiated by the International Finance Corporation (IFC).
Some 338 washing, dyeing, spinning, weaving, and garment factories are saving 28.7 billion litres of water a year by adopting the solutions of the Partnership for Cleaner Textile (PaCT), a flagship programme of the private sector lending arm of the World Bank Group.
Similarly, the factories are saving 2.9 million megawatt-hours (MGh) of electricity annually and avoiding 558,391 tonnes of carbon emission, according to data from the PaCT.
Under the PaCT-2 programme, the mills and factories slashed wastewater discharge by 24.1 billion litres. Participating mills and factories invested $44 million for the purpose.
Investment of a single US dollar can cut the consumption of 26 cubic metres of water, avoid 0.2 tonnes of greenhouse gas (GHG) emission, save two MWhs power, and reduce wastewater discharge by 23 cubic metres a year with the adoption of technologies, said the PaCT.
"We are using technologies to save energy in collaboration with our retailers and brands and PaCT experts. We are saving a substantial amount of energy and water," said Mohammed Al Tauhidul Islam, assistant general manager of the sustainability department of Envoy Textile Ltd.
The export-oriented company used 60.47 litres of water to produce one kilogram of denim fabrics in 2016. The water use has gone down to 44.9 litres thanks to the installation of the full-water metering technology in collaboration with the PaCT.
It has cut water consumption for processing fabrics. It can process one kg denim fabrics using 55.63 litres of water, which was 85.76 litres earlier.
The Bhaluka-based factory has targeted to reduce water consumption by 34.91 per cent by 2021 compared to 2016.
Envoy Textile has so far cut water consumption by 25.7 per cent, and the rate will go up by the end of the year, Islam said.
The exporter has drawn a roadmap covering five to seven years to reduce water and energy consumption and use the heat of gas boilers.
Urmi Group, another garment exporter, currently consumes 60 litres of water to dye one kg knit fabrics, way down from 100 litres to 105 litres needed two years ago.
"I have a target to bring down water consumption to 40 litres by next one and a half years as I have been upgrading technologies," said Asif Ashraf, managing director of the group.
Launched in 2013, the PaCT supports the entire textile value chain – spinning, weaving, wet processing and garment factories — in adopting cleaner production practices. It focuses on reducing the environmental impact and resource consumption.
The PaCT is the first programme ever to incorporate cutting-edge innovations to address the environmental and sustainability challenges related to the textile sector.
These ranges from low-cost or no-cost changes in management and housekeeping practices to process modifications to larger investments such as new equipment.
Apart from the sector's participation in the initiatives regarding climate change and circularity, the Bangladesh Garment Manufacturers and Exporters Association (BGMEA) has also taken a pledge to sustainability, said Rubana Huq, the immediate past president of the association.
In collaboration with the UNDP and the Global Reporting Initiative, a survey to develop a report highlighting the impact of ready-made garment factories on the Sustainable Development Goals was conducted.
The BGMEA has joined the UN Climate Change and the Fashion Industry Charter for Climate Action with an ambition to reduce GHG emission by 30 per cent by 2030.
"We have also committed to the Green Button Initiative of the German government," Huq said recently.
Sustainability in the supply chain of garments is a major concern for Bangladesh.
For instance, local fabrics makers used to consume 250 litres to 300 litres of water to wash one kg of fabrics previously. Because of the overuse of groundwater by washing, dyeing, spinning and garment factories, the water level has fallen by three metres every year in Dhaka and its adjacent areas.
The Fashion Industry Charter for Climate Action has identified ways for the textile, clothing and fashion industry to move towards a holistic commitment to climate action.
For more information, visit https://www.thedailystar.net/business/economy/news/low-cost-cleaner-production-processes-paying-2083909
Featured News