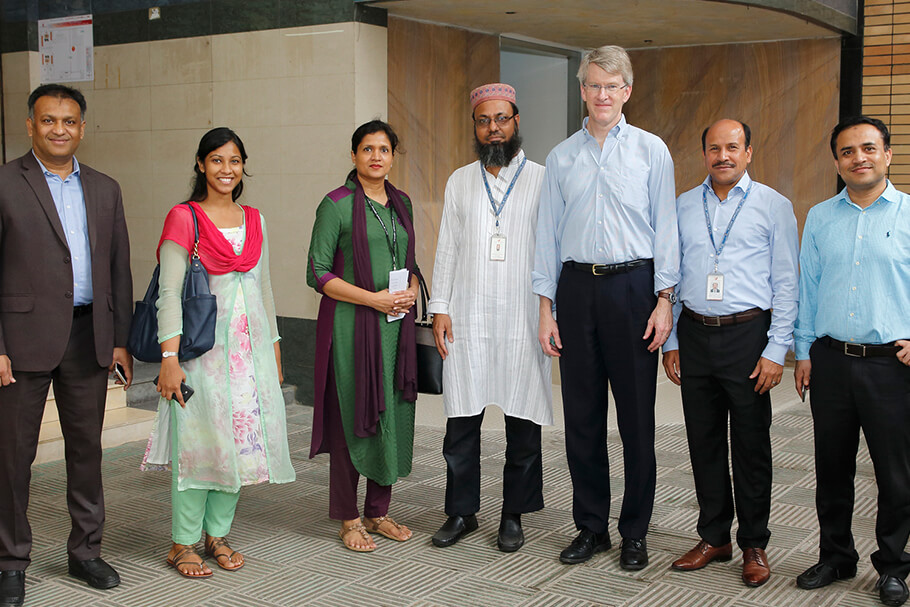 Mr John Kellenberg, Global Manager, Energy and Resource Efficiency Advisory, IFC, World Bank Group visited Fakir Apparels Ltd. (FAL) on 12 June, 2016 during his short trip to Bangladesh. Located in Narayanganj, FAL is a PaCT partner factory and a pioneer in producing dyed and finished knitwear fabric. The factory is a supplier to leading brands including H&M, C&A, Espirit, and Primark.
During Mr Kellenberg's visit, FAL highlighted its eminence in the Bangladesh textile industry by showcasing its growth trajectory over the last two decades, and how the PaCT partnership program supported the factory to successfully reduce their overall resource consumption.
In 2014, FAL partnered with Bangladesh PaCT with the aim to reduce resource consumption through the adoption of best practices in the dyehouse processes. Under the partnership program, FAL implemented over 25 Cleaner Production measures recommended by PaCT. In total, FAL invested USD 434,836 in resource efficiency projects in the dyehouse, which have led to reduction in- water consumption by 67%, energy consumption by 14%, GHG emissions by 14%, and wastewater by 66%. The factory now enjoys
USD 766,858 in annual savings, and is keen on making further investments in resource efficiency projects.
Featured News