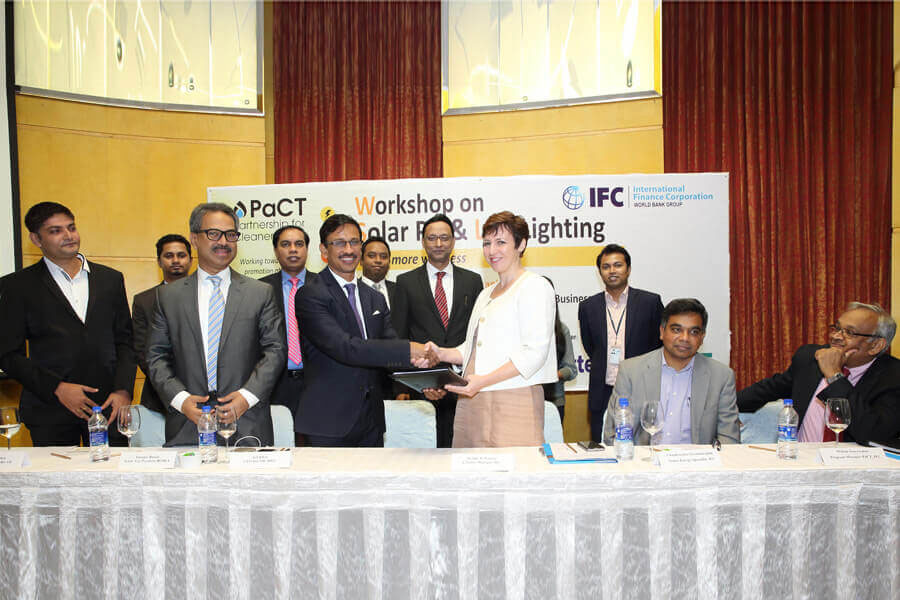 Bangladesh PaCT signs an agreement with IDLC Finance Limited to catalyze the adoption of sustainable practices through investments in resource efficiency in the Bangladesh textile sector. The agreement seeks to expand IDLC's loan portfolio in energy efficiency financing in the textile sector through the provision of PaCT's technical advisory services and business development support. This will lead to the development of a concise action-based business development strategy and a sustainable pipeline of clients, gaining IDLC market recognition for its work in the water and energy efficiency sector.
Core activities under the agreement include:Building of a solid portfolio of Energy & Water Efficiency to identify key areas of opportunities and prepare a business development strategy paper on Sustainable Energy Financing (SEF),Making joint client calls to PaCT partner factories and introducing IDLC's products to them,Formalizing partnerships with auditors and technology service providers through the Textile Technology Business Center (TTBC),Incorporating Climate Assessment for FI Investments (CAFI) tool in IDLC's loan assessment process, andConducting a session with IDLC's existing clients on the opportunities of energy efficiency in the textile sector.
The signing ceremony was held during a workshop titled 'Solar PV & LED Lighting', organized by the Textile Technology Business Center (TTBC) under the Partnership for Cleaner Textile (PaCT) program of IFC on 4 May, 2016 at The Westin, Dhaka. The signing ceremony was chaired by Arif Khan, CEO and MD, IDLC Finance Limited, and Wendy Werner, Country Manager, IFC, Bangladesh.
IDLC Finance Ltd., the largest multi-product Non-Bank Financial Institution of Bangladesh, has been committed to promoting sustainable business practices among its stakeholder group. IDLC's engagement with PaCT program is envisioned to strengthening IDLC's position in the green industry and enhance its share towards sustainability.
Featured News