Wednesday, August 03, 2022
They also said that the sector was also the biggest industrial contributor to Bangladesh's carbon footprint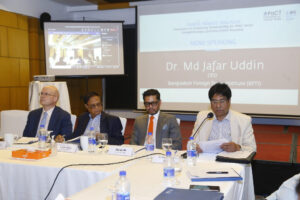 Experts at a discussion on Wednesday emphasized the importance of having a business develop around sustainable solutions such as rooftop solar panels and rainwater harvesting in the local readymade garment (RMG) sector.
Policy Research Institute (PRI) and the International Finance Corporation (IFC) organized the discussion to enhance environmental sustainability of the sector in the aftermath of the Covid-19 pandemic.
The RMG sector contributes one-fifth of Bangladesh's gross domestic product and more than 80% of its export earnings, while directly employing more than 4.5 million people, mostly women.
However, it is also the biggest industrial contributor to Bangladesh's carbon footprint, the PRI said in a press release.
Some of the issues identified during the discussions included the necessity of a long-term sustainability plan, easier and greater access to finance, knowledge gaps and barriers that prohibit smaller manufacturers from obtaining financing.
Miran Ali, vice-president of Bangladesh Garment Manufacturers and Exporters Association (BGMEA), said that the RMG sector had come a long way since the establishment of IFC's Partnership for Cleaner Textile (PaCT), which showed the industry a new path of competitive advantage by being responsible and making cost-effective and financially feasible changes in operation that reduce emissions.
In 2015, IFC's PaCT launched a national-level dialogue program to address resource use efficiency and environmental sustainability of the local RMG sector, under which several regulatory reforms were enacted.
As part of this initiative, PaCT organized a series of public-private dialogues which convened stakeholders related to the RMG sector to work collectively towards lowering sectoral barriers and creating a more enabling environment.
"The RMG sector needs to address environmental challenges and make further strides towards greening production. Some sectoral and regulatory barriers remain, but I am very confident that the RMG sector will rise to the challenge and become even more energy efficient," said Martin Holtmann, IFC country manager for Bangladesh, Bhutan and Nepal.
Ahsan Mansur, executive director of PRI, was the keynote speaker at the event.
During his presentation he focused on the potential for rooftop solar power, reducing input materials through greater resource efficiency, recycling and reusing waste.
"We need to help accelerate the process so that the targets can be realized. Financing, regulatory changes, customs and tax policies and incentives are important issues that need to be solved through continued cooperation and policy discussions with specific agencies," he added.
Khondkar Morshed Millat, director, Sustainable Finance Department, Bangladesh Bank, Md Jafar Uddin, CEO, Bangladesh Foreign Trade Institute and Golam Sarwar e Kainat, member (joint secretary), Renewable Energy, SREDA, were also present at the event.
Other participants included representatives from Bangladesh Standards and Testing Institution, Bangladesh Export Processing Zone Authority, Bangladesh Investment Development Authority, Tariff Commission, high officials from the Embassies of Denmark and the Netherlands, as well as industry representatives and civil society organizations.
The Partnership for Cleaner Textile (PaCT II) program is funded by the government of Denmark through the Danish International Development Agency (DANIDA) and the Embassy of the Kingdom of the Netherlands in Bangladesh.
For more information, visit https://www.dhakatribune.com/business/2022/08/03/experts-increase-eco-sustainability-in-rmg-sector
Featured News